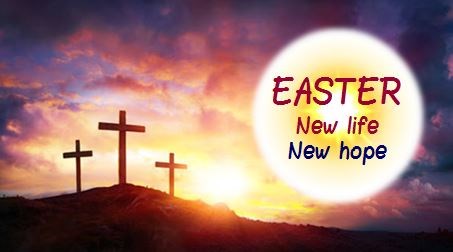 EASTER SERVICES @ MANNING UNITING CHURCH
9.00am    Good Friday  April 2        Worship Leader:  Rev John Thornton
9.00am    Easter Day    April 4        Worship Leader:  Rev John Thornton   
SCROLL DOWN FOR THE SUNDAY MORNING WORSHIP ROSTER - APRIL TO JUNE 2021
____________________________________________________________________________
SCROLL DOWN for information how to access the Mid North Coast Presbytery Sunday Online Church.  The Synod of NSW.ACT also has a list of Uniting Churches across NSW and the ACT that are offering worship online. 
____________________________________________________________________________
Regulations for COVID-19 protocols and conditions of entry for church services

:   
EASING OF COVID-19 RESTRICTIONS
A further easing of COVID-19 restrictions in NSW will operate from Monday 29 March.
Summary of Changes
No restrictions on singing, including places of worship (Hallelujah!).
No restrictions on dancing, including weddings.
Masks are no longer mandatory in a place of worship, even when singing.
All maximum numbers are limited only by the 2-square-metre rule.
Details of restrictions applicable from Monday 29 March:
Maximum numbers
For places of worship, weddings, funerals and other functions, the maximum number allowed is limited only by the 1 person per 2-square-metre rule for the venue.
Physical distancing of 1.5 metres is still required, which may affect total ca-pacity.
25 people are allowed before the 1 person per 2 square metre rule applies.
Singing: There are no restrictions on singing, including indoors, and masks are not re-quired.
Masks: Masks are no longer mandatory but remain strongly recommended. This in-cludes on public transport.
Communion: Continue to ensure elements are prepared in a hygienic way (using gloves and consider the wearing of a mask due to the close proximity to food). Ele-ments distributed to the seated congregation by server/s also wearing gloves and possibly a mask (see above). Consider using tongs to assist with the dis-tribution of bread and be mindful of the 1.5 metre physical distancing where possible.
Attendance records are still required.
Cleaning: There has been no easing with the requirements for cleaning.
Dancing: There are no restrictions in place for dancing at weddings (or other events).
Baptisms
Ensure physical distancing is maintained where possible and use hand sani-tiser and common sense.
Ensure all people involved agree to proceeding in a COVID safe manner.
Attendance
The venue must have a COVID-19 Safety Plan and be registered as a COVID Safe venue.
To enable physical distancing when arriving, entry will be through the Red Dove Cafe.  You will need to sanitise your hands when entering and then proceed to the central foyer to register at one of the two welcomers' tables before moving into the church.    
The number of people in a place of public worship is subject to the one person per 2 square metres rule at all times. There are markers on the floor to guide you in keeping an appropriate distance from others. Please keep your distance and avoid bunching when arriving and departing.   
People attending will be required to provide their name and contact details when they enter so that they can be used for contact tracing. 
We remind you that entry conditions are:
You must stay away if you are unwell.
You must sanitise your hands from the wall unit at the entry to the Red Dove Cafe.
On entry, we are required to ask you 3 questions:
     In the previous 14 days, have you:
       1) had any COVID-19 symptoms?
       2) been in contact with any confirmed/suspected COVID-19 cases?
       3) travelled internationally?
Online Church – You can worship Online if you are still in worship isolation and may be looking to connect with the wider presbytery family. The Mid North Coast Presbytery Sunday service is now merged with the Port Uniting service.  In your web browser: www.uca-nswact.zoom.us/j/708240593 – or in the Zoom app, Meeting ID: 708 240 593.  Virtual 'mingling' from 8.30am, with the service beginning at 9.00 am. All welcome.  Don't forget that these services are recorded, and you can find them if you go to the MNC website: www.midnorthcoast.uca.org.au  The sermons from previous weeks are available on the Port Macquarie Uniting Sunday morning worship Youtube channel 
The Synod of NSW.ACT has a list of Uniting Churches across NSW and the ACT that are offering worship online. Some services are live streamed from Facebook pages or prerecorded and available on YouTube or available as podcasts.   https://nswact.uca.org.au/covid-19-information-for-presbyteries-and-congregations/livestream-options-for-worship-during-covid-19/  
ROSTER FOR APRIL TO JUNE 2021 WORSHIP SERVICES:
Date                               Theme                       Worship Leader      
Sunday April 2             Good Friday                   Rev John Thornton
Sunday April 4             Easter Day                     Rev John Thornton
Sunday April 11           Easter 2                         David Freeman
Sunday April 18           Easter 3                         Jessie Mervyn Jones
Sunday April 25           Easter 4                         Chris Goodsell
Sunday May 2             Easter 5                          Peter Cambrell
Sunday May 9             Easter 6                          Rev Claire Wright
Sunday May 16           Easter 7                          Rev Claire Wright
Sunday May 23           Pentecost                        Rev Claire Wright
Sunday May 30           Trinity Sunday                 Rev Claire Wright - Bring a friend Sunday
Sunday June 6            Pentecost 2                     Beth Norling
Sunday June 13          Pentecost 3                     Rev Simon Hansford
Sunday June 20          Pentecost 4                     Rev Lindsay Sheppard
Sunday June 27          Pentecost 5                     Darryl Drury