IMPORTANT ANNOUNCEMENT ON CHURCH ATTENDANCE AT MANNING UNITING CHURCH
Because of government health orders, only those who can supply proof that they have been FULLY IMMUNISED against COVID-19, or that they have an exemption, will be able to attend worship services on Sundays until NSW State reaches an 80% fully vaccinated level, expected to be in late October.  
We apologise for any inconvenience or upset. 
We look forward to everyone being able to join us again then. 
Thank you for your understanding.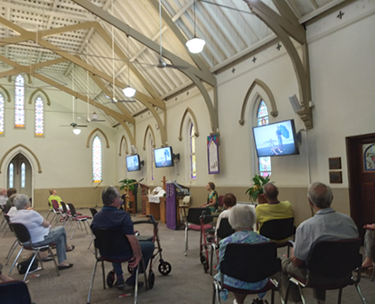 Manning Uniting Church is open for COVID-safe worship at 9.00am on Sundays.  If you're not a regular at Manning but would like to join us, you are most welcome to our worship service, provided you have not been recently in an area where COVID-19 is present. 
Regulations for COVID-19 protocols and conditions of entry for church services:   
Manning Uniting Church has a COVID-19 Safety Plan is registered as a COVID-Safe venue. It is important to remember that to have the opportunity to continue to worship in our building we all must:
Wear masks inside at all times (except for the leader at the front). This means putting your mask on BEFORE entering the building, not after, and wearing your mask so that it covers your mouth and nose.
Sanitise our hands with the sanitiser provided at the entry.
Register our attendance using the QR Code or by having attendance noted at the welcome desk. There is NO SINGING.
Practise social distancing at all times … on entering the church building, sitting in church, and departing church after the service.
Not attend church if you we are in any way not well or have been in a designated "hot spot" within the past 14 days.
Details of restrictions applicable:
Maximum numbers
For places of worship, weddings, funerals and other functions, the maximum number allowed is limited only by the 1 person per 4-square-metre rule for the venue. This allows a maximum of 45 people in our church building.
Physical distancing of 1.5 metres is still required, which may affect total capacity.
Communion: We ensure elements are prepared in a hygienic way (using gloves and the wearing of a mask due to the close proximity to food). Elements are distributed to the seated congregation by server/s also wearing gloves and a mask.
ALTERNATE WORSHIP OPPORTUNITIES:   
Watch ABC-TV's Songs of Praise at 11.30am Sundays (or on-demand), and browse through your own library of Bible study booklets, worship CDs and so on.