Manning Uniting Church  -  Connecting, Gathering, Growing, Giving…
Manning Uniting Church is within the Manning Valley Project ministry development initiative. 
Manning Uniting Church serves the communities of Taree, Cundletown, Old Bar and Tinonee. Office hours are 9.30am to 1.00pm Tuesday to Friday. The church has a heavy emphasis on social justice.
The church's main centre in the heart of Taree houses the church building, offices, an auditorium and meeting rooms. Most of these spaces are available for booking for meetings, training, conferences etc. Contact the office for bookings. The church building and auditorium have modern audio-visual facilities, including data projectors, DVD players, screens and sound system.
The facility also houses the Red Dove Cafe, which is open to the public for breakfast, lunch and snacks from 9.30am to 2.15pm Tuesday to Friday.
Emergency welfare services are available on Fridays between 9.30am and 12.30pm. The welfare table offers bread, vegetables, pies and pet food.  The Orange Sky Laundry operates on Friday mornings from 10am - 12pm.   
Many people have been affected by the recent flooding in the Manning Valley. The Uniting Church is active in relief and recovery efforts in our community.  
Here are ways in which we might be able to help: 
If you are in need of pastoral support or prayer, call
Rev Claire Wright - 0490 678 593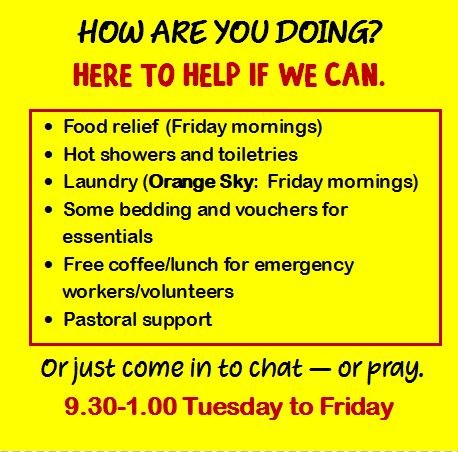 ---
Coronavirus Guidance Notes
Manning Uniting Church is open for (COVID-safe) worship on Sundays at 9am in the church building.  If you're not a regular at Manning but would like to join us – you're most welcome.                                 
EASING OF COVID-19 RESTRICTIONS
A further easing of COVID-19 restrictions in NSW will operate from Monday 29 March.
Summary of Changes
No restrictions on singing, including places of worship (Hallelujah!).
No restrictions on dancing, including weddings.
Masks are no longer mandatory in a place of worship, even when singing.
All maximum numbers are limited only by the 2-square-metre rule.
Details of restrictions applicable from Monday 29 March:
Maximum numbers
For places of worship, weddings, funerals and other functions, the maximum number allowed is limited only by the 1 person per 2-square-metre rule for the venue.
Physical distancing of 1.5 metres is still required, which may affect total capacity.
25 people are allowed before the 1 person per 2 square metre rule applies.
Singing:  There are no restrictions on singing, including indoors, and masks are not required.
Masks
Masks are no longer mandatory but remain strongly recommended. This in-cludes on public transport.
Communion:  Continue to ensure elements are prepared in a hygienic way (using gloves and consider the wearing of a mask due to the close proximity to food). Elements distributed to the seated congregation by server/s also wearing gloves and possibly a mask (see above). Consider using tongs to assist with the distribution of bread and be mindful of the 1.5 metre physical distancing where possible.
Attendance records are still required.
Cleaning: There has been no easing with the requirements for cleaning.
Dancing: There are no restrictions in place for dancing at weddings (or other events).
Baptisms
Ensure physical distancing is maintained where possible and use hand sanitiser and common sense.
Ensure all people involved agree to proceeding in a COVID safe manner.
COVID-19 Safety remains very much a high-level issue. Although our governments have done very well in making Australia one of the safest places on earth during the pandemic, the appearance of new strains of COVID-19 that are more infectious and lethal, along with the fact that people are often infectious before they have any symptoms, has meant that the NSW Government has kept in place rules for us to follow.
Current regulations regarding places of worship in rural and regional NSW are as follows:
Attendance
The venue must have a COVID-19 Safety Plan and be registered as a COVID Safe venue.
The number of people in a place of public worship is subject to the one person per 2 square metres rule.
People attending a religious service will be required to provide their name and contact details when they enter so that they can be used for contact tracing.
Red Dove
We remind you also that, because of COVID rules, entry to the Red Dove is by the outside door only and not from the foyer. You must register electronically, either by using your phone or having the staff register you.
Keep checking our Facebook page and website for the latest information.
Resources on how to handle this pandemic are available on the National Assembly and NSW/ACT Synod websites. See also relevant posts on Presbytery News and Synod News.
____________________________________________________________________________
Manning is part of the Mid North Coast Presbytery - its website provides resources and further information about the Uniting Church in Australia.